Custom Software Development for Startups: Professional Online Services
GNS provides professional guidance and highly skilled IT specialists to make sure your idea turns into a successful business.

Unparalleled involvement
in the project
Special attention to security
of sensitive data

Well tested approach to startup
development
Numerous startups have walked their way from idea to profitable business with assistance from GNS specialists. Among them are: Gofit and GIOS
We always do our best to make your startup attractive to investors and then launch the tested and working product without delay.
GNS is flexible and always ready to adjust the course of the project.
We keep supporting your project for as long as you need it no matter how much it scales.
Delivery Model
5
UI Wireframing & Prototyping
Solution Creation Circle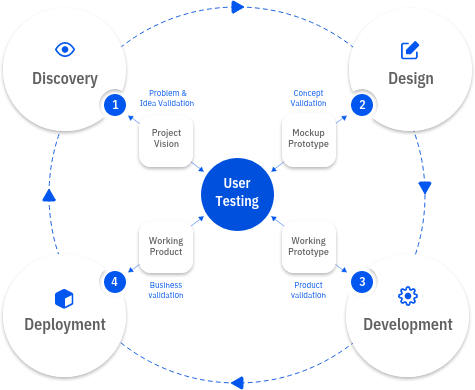 Nowadays business field is evolving and taking new forms. Throughout the world, the number of companies is increasing. But at the same time, a lot of businesses can't sustain the competition on the market. Due to this, most of the great startups collapse. It means that an enterprise does not take appropriate decisions and can not find the best solutions to the existing problems. 
But how to make your business flourish? How to make profits from the very start of your company? Answers to those and other questions will be described in this article. Always remember that a successful business is not an impracticable dream. It is a dream that can come true if only the best specialists are working on it.
Software Development Company for Startups: What Is a Necessity of Such a Firm?
As has been mentioned above, a lot of startups just collapse even not having made large profits. Of course, it is very frustrating, especially for the entrepreneurs who have been working on their startups for a long time taking much effort, resources and time. But what are the reasons for such outcomes? 
The most common reason is that a team does not undertake thorough research. As a result, they start a business that is not in demand on the market. It is important to define all the tendencies in the field of your startup. You should not sell what you make, you should make what will be bought on the market. 

Problems with branding is another reason why a product or a service can not break into the market to the full extent. To create a popular and well-known brand it is not the best idea to generate it through a program. It is important to consider a lot of nuances. 

Design is one more crucial point for a startup. And if an entrepreneur has no specialist in this field, his or her business is at risk of collapsing at all. Because people are visual. So, consumers like what they see. That's why it is so important.

A company has no software support. It means that there are no professionals in the focus group (people who are working on the project, startup) that can provide a company with all the necessary software services. Software development for startups includes creating websites and various web tools. If an entrepreneur does not ask for help from a professional software development company for startups, his or her chances of breaking into the market fast and without problems decrease.
All those reasons for collapsing the startups considering, one more question arises, how to minimize the risks? 
Software Development Company for Startups as the Best Helper With Starting Your Company 
As you might have understood, qualitative and professional custom software development for startups is really crucial. And the best helper with it is a software development company for startups. It is concerned with all the cycles of starting a business. So, submitting an application to such a company, you can stop worrying about every process. Because they provide their customers with a great range of services, from consulting to creating your own brand and help with conducting your business. 
Below some further benefits of a software development company for startups will be mentioned.
They are able to create any product or service for your startup. It means that the specialists who work there are full of different ideas. What is more, there are employees with a great variety of competencies. So, the staff of such companies consists of writing and marketing specialists, economists and even businessmen who are ready to share their experience with every client.

As well as they are able to create a brand, they also can join your startup or even business at any you need. Because the specialists who performed such a great number of projects are experienced and qualified workers. So, they can handle any bespoke task.

They practice a lot of approaches including outsourcing and cooperation with various companies and specialists (even offshore ones). 
All in all, such companies provide all their customers with software development for startups that in turn is a crucial element of all startups.
Software Development for Startups: Minimize the Risks of Collapsing Your Business 
The list of all the benefits of online software development companies for startups, that have been mentioned above, shows their importance for all businesses. It is worth mentioning that the number of such companies is great but not all of them are top customer services. So, not all of them can provide professional help with your business. 
If you want to start your business or get really professional advice and software development for startups, ask for help from real professionals and minimize the risks of collapsing your business!